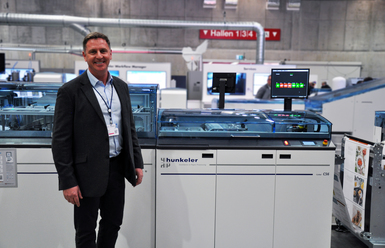 Quarter One investments at Westfield site
Two key investments have been made at the Westfield site. In February we installed a Hunkeler offline roll-fed CS6-2 cutting system with offset stacked cut-sheet output, an MBO T535 Efficiency buckle folder, MBO A500 mobile stacking delivery and a Herzog + Heymann transfer unit type 850.3.
Initially we started looking purely for a deep pile sheeter but, after reviewing our requirements, Friedheim International came up with a proposal to build the fully integrated sheeter, folder and stacker line for us, which can operate at speeds up to 150/min.
The investment will enable us to reduce the number of processes involved in converting pre-printed reels to sheeted, folded and finished products.
We are anticipating new sales of £1m per annum as a direct result of the investment as we will now be able to compete more effectively in the market for press inserts and high volume leaflets.
We have has also invested in an additional Bluecrest Mailstream Evolution nine-station continuous-feed inserting line in our Transactional division.
The machine is equipped with File Based enclosing software and cameras in line with our policy of delivering robust 100% mail pack integrity and will be fully commissioned and into live production by the second week of April.
The latest round of investment is part of Integrity's proposed spend of more than £1m for 2019.