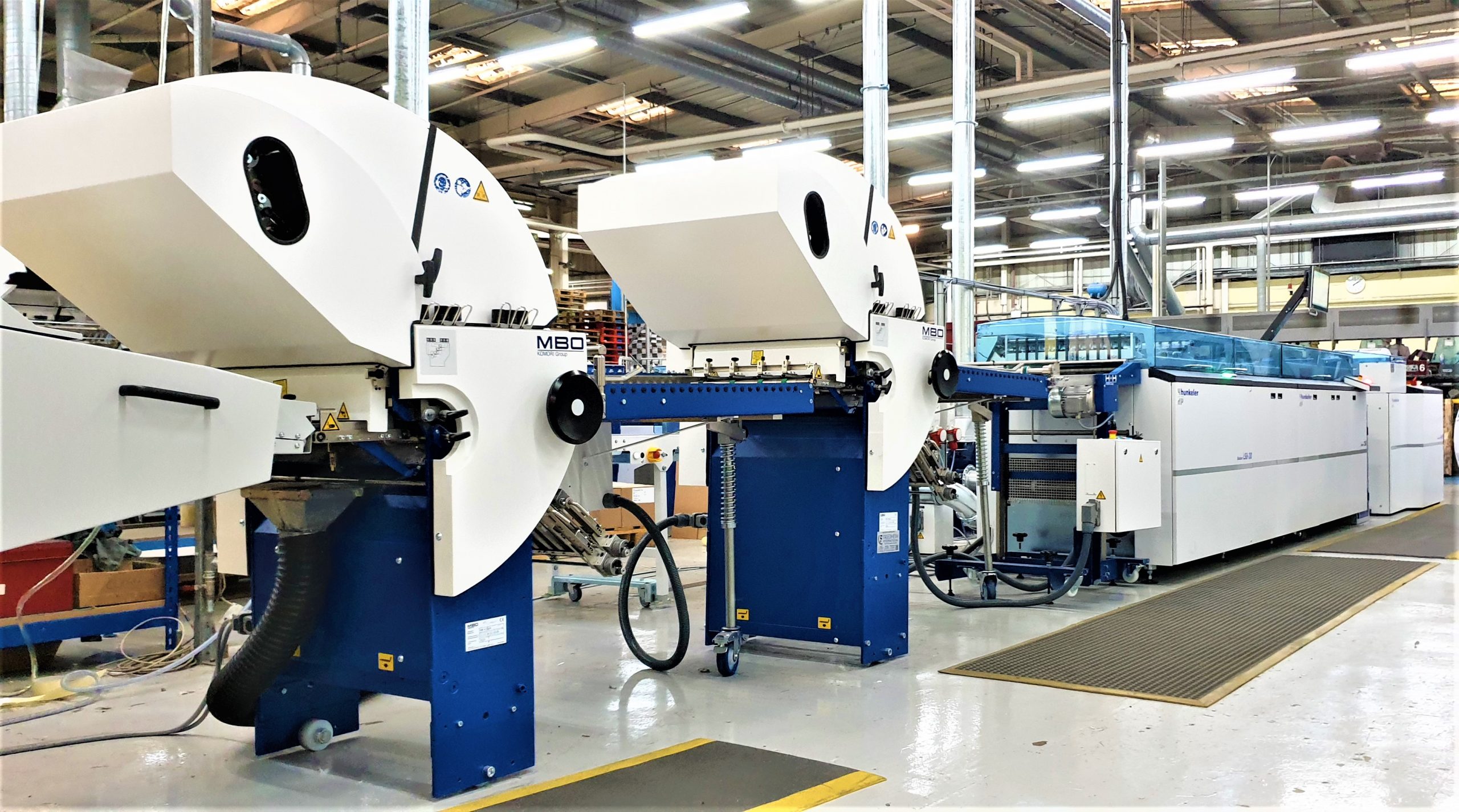 Integrity ramps up their high-volume leaflet production capacity with investment in a new automated finishing line.
In January, Integrity's production floor saw the arrival of a new automated finishing line, which is set to transform their folded leaflet production.
The Hunkeler Gen8 finishing line with in-line cutting, separating and stacking modules, provides Integrity with a high-performance roll-to-stack solution that doubles their capacity for folded leaflet production. Commenting on the new acquisition, Account Director Nathan Douglas said:
"Over the past few years, we've seen an increase in the demand for high-volume leaflet printing. In the past we weren't always able to meet this demand but now, with this new investment, we have the capacity to produce up to 10 million folded leaflets per week – doubling the capacity of 2020. The new technology provides an automated, inline solution that allows us to streamline our process and become far more efficient . . .The new commercial line also gives us the enhanced finishing capability to meet some of our clients' more complicated design requirements".
The acquisition of the Hunkeler Gen8 finishing line follows on from the 2019 investment in the Hunkeler offline roll-fed CS6-2 cutting system, and it is the combination of these two systems that allows Integrity to achieve its 10 million folded leaflets per week production capacity.
With installation and testing completed at the end of January, the new finishing line has been running at full capacity throughout February, with no fewer than 50 projects now completed. Integrity's latest investment marks a pivotal step further into the high-volume leaflet production market.
The Integrity Solution
Whether you are a small family business or large international corporation, leaflets and flyers are a cost-effective and impactful way to reach your customers and promote your brand. With many of us now spending more time at home, more and more of our clients are now seeking to produce door drop mailings and non-personalised press inserts to reach their target audiences.
At Integrity, we can print and finish up to 10 million leaflets and flyers per week, in a full range of sizes and folding configurations up to 16 pages – including A5, A4, DL, fold bolt cut and nest, and bangtail envelopes.
We also provide direct mail services for a wide range of household names in the retail, charity and financial sectors. We work closely with our clients to produce innovative paper-based products that enable them to create more effective direct mail pieces. So, as well as printing your bespoke leaflets and flyers, we can also provide a 100% mailing service for your high volume, direct mail work – for the complete Integrity solution.
To find out more, please call our friendly team or leave us a message